Being quite the baker of epic cakes I really appreciate these wondrous creations. What could be better than edible undead? You can literally nom them right back AND they taste nice (unlike rotting flesh which I assume leaves a bit of a bad taste in the old chomper). So here are my top 10 zombie cakes.
10: Thorax Cake
I do love this cake, I know it's only at number 10 but don't get me wrong, I love this cake. The concept is incredible and I totally appreciate the effort gone in to make the rib cage. I do wonder if it could have been created a bit more… tastifully. Seriously would you eat this? It's trying too hard to be anatomically accurate and ends up being a total food colouring free for all. You kind of expect whoever made it to have lost a finger in there whilst beating the eggs frantically with an insane look on their face. I think I like make cakes a little less… gruesome, you know?
9: Remove The Head or Destroy the Brain Cake
There are so many brain cakes out there and they all look nommy. This one gets in the chart because it oozes raspberry jam when you cut it. How cool.
8: Rock-a-billy Zombie Cake
Cakes you wouldn't like to meet in a dark alleyway? A cake interpretation of what Katy Perry would look like as a zombie? Cakes that remind you why leopard print is bad? I'm ticking all of the above. It's pretty nifty though. The detail in the bones and guts is incredible and I love the blend of themes. Still I'm going to avoid cheese before bad now that I've seen it.
8: Hell-o Kitty Cake
Very well executed icing here and the worms and dirt are a nice feature but yawns; I wish somebody had killed Hello Kitty, like 15 years ago. Get a new fad people.
7:Evil Dead Arm Cake
On first glance I thought this was quite cool. Yeah severed arm, yup there's some rats, nothing epic or zombie-tastic going on… hold up… wait a minute… does the blood spell out "I'm coming to get you Barbara"? ZOMG that's cool. I know it's not the most skillful piece of sugared un-dead good ever but it's nicely understated and not all showboat-y (Yeah like you Hell-o Kitty cake, you massive show off). Like!
6:Severed Head Cake
What more can you want in a cake that a severed head mounted on a circular saw? I like to think it's all edible but frankly I don't massively believe the bandage is. Still it's the most realistic edible severed head I've seen and I would love to be the Birthday person who got to slice into it.  Coming at ya with an axe! I also love that it's on some sort of frilly base… adds a touch of class.
4: Wedding Zombie Cake
Yeah yeah yeah we've all seen it. It's the zombie cake again. Shut up you, this cake is splendid and had to make it in the chart. I think what does it for me is the tiny blood splats and shading all over the regular looking wedding cake. This somehow makes the cake less tacky. I do wonder if those zoms climbing up the cake are based on real wedding guests. I can't imagine my sweet old Auntie Mary would appreciate being replicated in zombie icing form.
3:Left For Dead Cake
Dude: cool. Like so cool. The shading, the blood, the arm; it's all perfect. It's not the most epic thing ever but it gets it so right. It almost looks like a painting. I would like to see more zombie in this style of cake. And for once this cake actually looks edible.
2:Zombie Noms Cake
This cake is stunning. You know when things get so good that could can't believe they're real? This cake is all of that. It's based on a Threadless T-Shirt (which by the way is awesome and you should go buy it) and captures the cartoon style perfectly. The icing is perfectly coloured and actually looks like icing and nommy. I really want to just dunk my finger in the gooey red blood and give it a taste. I had to read read the how too just so I could actually believe this cake was real but it is. Kudos.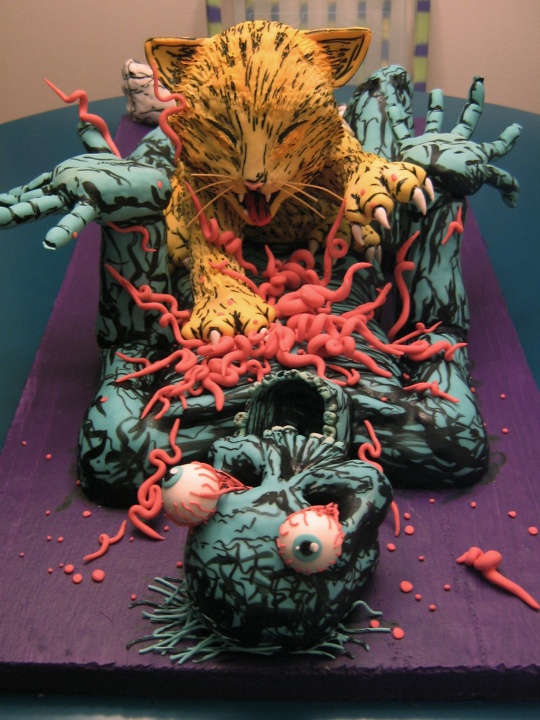 1: 8th Birthday Cake
This is stupendous. This was created by an awesome mum for her very lucky daughter on her 8th birthday… yup 8th. I'd love to see the faces of all the kiddies at that birthday party; I'm sure they'd be a few tears from that kid whose mummy doesn't let him have sweets/video games/fresh air followed by some angry parents. Brilliant! As for the cake; it is an actual work of art. That must have taken forever. The brain is amazing, as is the stripped bone, dirty looking dress, dirt as she's coming out of the ground, eyeballs and flower decoration round the bottom. It's a full blown ZOMG of a cake and I love that is wasn't made by some fancy-pants bakery in New York but the best mother a kid could have (sorry mum-of-the-dead but you're going to have to up your cake game).
Check out these sweet as pressies to get for the zom obsessed significant other this V-Day.
Forget choccies, show the zom you love how much you care by giving them your heart… anatomically correct edible gummy form!

Want to give the lady you'd kill for a home made pressie? Check out this brain jelly mold.
We recommend filling it with this pink chocolate truffle recipe or if that requires baking skills you don't have then go for strawberry jelly with these jelly hearts floating in. Nom nom nom.
More in to the old fashioned romance? Well what could be better than a classic love story… plus Zombies. We've all heard of Pride, Prejudice and Zombies, well why not get these postcards with illustrations from the book and write your inner most feelings on the back. We suggest poetry from our last Zombie Poetry post. That's sure to make your undead love swoon for your brains.
You're undead boo got a bit of a comic book fetish? Yeah we thought Mavel Zombies was a little weak on concept but still, don't MJ and Spidey look like a happy couple?


Sorry I do tease, this statue has sold out at Amazon but I'm sure if you really love you're undead comic nerd fellow you'll try harder than us to find it!
Want to go all the way this V-Day and pledge the 'till death do us part' bit, well check out these crazy wedding ideas.

What a happy couple.
And for the cake:


I would totally nom that.
All this marridge stuff seeming a bit much? Want to tone down the commitment? Go for a classic card slipped into their locker or on their breakfast tray with one single (dead) red rose. I like these cards…
Really expresses you true feelings eh?