So the lovely Barbarann Garrard, maker of my number 1 all time best zombie cake ever from this post got in contact to let me know that she has made another AWESOME ZOMBIE CAKE. So I was all like 'cooooooooool I'd better post that' so here it is:
We salute you maker of awesome cakes! Let us know if you want to make one for RedOnYou!
Jason Freeny has created this working puzzle sculpture presumably to keep smart zombies entertained. Good plan Jason, if they're amused by this then they're off the streets eating brains. Thanks for making the world a safer place. Here's how he did it.
Check out this trailer for Dead Island, a new FPS survival horror game from Techland and Deep Silver… zomg it looks awsome!
"What's the only thing that kills a vacation faster than screaming children on the airplane? Bloodthirsty zombies" – sweet
"Five bored strippers, working in a quiet customer-less club, stumble across a secret passageway in their dressing room, that leads to the basement and the discovery of The Well of the Dead and The Book of the Dead. They read the incantations from the book out loud and unknowingly, unleash the army of the Undead on the world! Armed with swords and chainsaws and their kick-ass fighting moves, only they can stop the zombie army now! "
For one night only this film is playing at the Prince Charles Cinema in Leicester Square. So come zom, come all on 17th (this Friday) at 8.45pm and enjoy what promises to be a feast for the eyes. Review to follow shortly.
This Zombie poster from FreakingAweso.me is freaking awesome. It's text art using titles from 978 zombie movies, books and video games. The poster (if you want it at a resonable size) is pretty pricey but it would be nice to have some Zom Art on the walls that isn't the usual movie poster. Not that seeing Dr. West every morning when I wake up is a bad thing, it puts me in the right frame of mind for the day I feel.
This is one for the calander:
Survive a night in Bristol without being caught by the zombies and save the city from apocalypse.
igfest 3 presents the main event of the festival: The zombie flash mob phenomenon is taken to a whole new level with this amazing, exhilerating night-time street game for 200 players.
Night falls and an eerie quiet descends over the centre of Bristol. A car lies on its side, a corner shop is abandoned…then you hear the noises…of hund…reds of people moaning and the dragging of feet…coming nearer and nearer. You'd better…RUN!
Tickets are £10 and will be available from Watershed box office at the end August. More info at http://igfest.org/
Ok so we had a very long debate as to whether this was a zombie movie. We even ran a poll remember? We'll I've taken an executive decision to not care either way. The fact is that there are some awesome hilarious gore bits and the added extras on the DVD and Blu-ray (including Episodes 1 to 4 of The Crazies Motion Comic, cooool eh?) mean that I wouldn't kick it off my DVD rack. Admittedly it's not going to sit in prime spot with Re-Animator, Dawn or Braindead but I may rate it higher than Survival, not that this is saying much.

Anywho, check out this trailer and buy the DVD. It's probably better than wasting your money on some movie that totally rips of the original Crazies but in a god awful arthouse style like, oh, say The Dead Outside.



Just a little follow up post to the stories we ran for Stella Artois 4% about the legend that is Jacques d'Azur. Some lucky fellows got to live it up taking Jacques' place at the Cannes Film festival, in the luxurious style that Jacques is accustomed to and let me tell you it was pretty darn cool. Don't believe me? Well check out the following video:
So next time you get the chance to enter a competition I say do it! You might just win.
*Sponsored post: we needs braaaaains money
Being quite the baker of epic cakes I really appreciate these wondrous creations. What could be better than edible undead? You can literally nom them right back AND they taste nice (unlike rotting flesh which I assume leaves a bit of a bad taste in the old chomper). So here are my top 10 zombie cakes.
10: Thorax Cake
I do love this cake, I know it's only at number 10 but don't get me wrong, I love this cake. The concept is incredible and I totally appreciate the effort gone in to make the rib cage. I do wonder if it could have been created a bit more… tastifully. Seriously would you eat this? It's trying too hard to be anatomically accurate and ends up being a total food colouring free for all. You kind of expect whoever made it to have lost a finger in there whilst beating the eggs frantically with an insane look on their face. I think I like make cakes a little less… gruesome, you know?
9: Remove The Head or Destroy the Brain Cake
There are so many brain cakes out there and they all look nommy. This one gets in the chart because it oozes raspberry jam when you cut it. How cool.
8: Rock-a-billy Zombie Cake
Cakes you wouldn't like to meet in a dark alleyway? A cake interpretation of what Katy Perry would look like as a zombie? Cakes that remind you why leopard print is bad? I'm ticking all of the above. It's pretty nifty though. The detail in the bones and guts is incredible and I love the blend of themes. Still I'm going to avoid cheese before bad now that I've seen it.
8: Hell-o Kitty Cake
Very well executed icing here and the worms and dirt are a nice feature but yawns; I wish somebody had killed Hello Kitty, like 15 years ago. Get a new fad people.
7:Evil Dead Arm Cake
On first glance I thought this was quite cool. Yeah severed arm, yup there's some rats, nothing epic or zombie-tastic going on… hold up… wait a minute… does the blood spell out "I'm coming to get you Barbara"? ZOMG that's cool. I know it's not the most skillful piece of sugared un-dead good ever but it's nicely understated and not all showboat-y (Yeah like you Hell-o Kitty cake, you massive show off). Like!
6:Severed Head Cake
What more can you want in a cake that a severed head mounted on a circular saw? I like to think it's all edible but frankly I don't massively believe the bandage is. Still it's the most realistic edible severed head I've seen and I would love to be the Birthday person who got to slice into it.  Coming at ya with an axe! I also love that it's on some sort of frilly base… adds a touch of class.
4: Wedding Zombie Cake
Yeah yeah yeah we've all seen it. It's the zombie cake again. Shut up you, this cake is splendid and had to make it in the chart. I think what does it for me is the tiny blood splats and shading all over the regular looking wedding cake. This somehow makes the cake less tacky. I do wonder if those zoms climbing up the cake are based on real wedding guests. I can't imagine my sweet old Auntie Mary would appreciate being replicated in zombie icing form.
3:Left For Dead Cake
Dude: cool. Like so cool. The shading, the blood, the arm; it's all perfect. It's not the most epic thing ever but it gets it so right. It almost looks like a painting. I would like to see more zombie in this style of cake. And for once this cake actually looks edible.
2:Zombie Noms Cake
This cake is stunning. You know when things get so good that could can't believe they're real? This cake is all of that. It's based on a Threadless T-Shirt (which by the way is awesome and you should go buy it) and captures the cartoon style perfectly. The icing is perfectly coloured and actually looks like icing and nommy. I really want to just dunk my finger in the gooey red blood and give it a taste. I had to read read the how too just so I could actually believe this cake was real but it is. Kudos.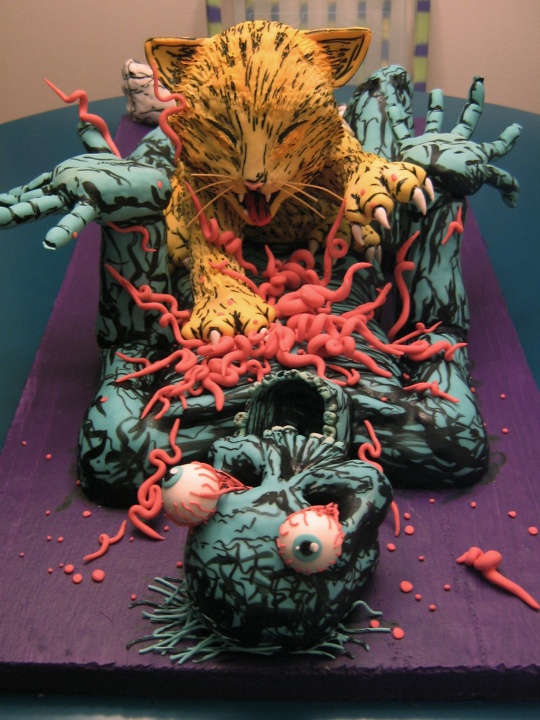 1: 8th Birthday Cake
This is stupendous. This was created by an awesome mum for her very lucky daughter on her 8th birthday… yup 8th. I'd love to see the faces of all the kiddies at that birthday party; I'm sure they'd be a few tears from that kid whose mummy doesn't let him have sweets/video games/fresh air followed by some angry parents. Brilliant! As for the cake; it is an actual work of art. That must have taken forever. The brain is amazing, as is the stripped bone, dirty looking dress, dirt as she's coming out of the ground, eyeballs and flower decoration round the bottom. It's a full blown ZOMG of a cake and I love that is wasn't made by some fancy-pants bakery in New York but the best mother a kid could have (sorry mum-of-the-dead but you're going to have to up your cake game).
It's not often you get to eat the undead, they're usually the ones doing the chomping, but ThinkGeek have just started running tasty Zombie Blood. It's enriched with lovely caffeine which will help keep you alert whist on night watch protecting your survivors or help you re-energise after a long time on the road running from zoms. It has the same sorts of stuff regular blood has so will give you the vitamins you need to heal after that friendly fire gunshot wound or replenish lost iron from when The Governor amputated you hand. Plus it's lime flavour, nom nom nom.
/buy