Hey single guys, feeling a bit lonely this Valentines? Well don't you worry, we have put together a top 10 of the hottest undead totty out there for you to perv over this V-Day. Don't worry, most of them are super hot zombie warrioresses, I've tried to not include too many rotting girlies for fear you'll all turn into necros. Charming.
10. Trash – Return of the Living Dead
80s cult film punk rock pin up Linnea Quigley does what every self respecting woman-about-to-be-zombie should do; takes her clothes off and dances in a grave yard.

9. Number 9 from Land of the Dead
The only bonafide zombie from the start of the film to the finish (unless she was killed, better watch it again to make sure). Well she was probably a looker back in her alive days but even with half a face she still has a certain je ne sa qua. Here she is in a compare and contrast with her alive self.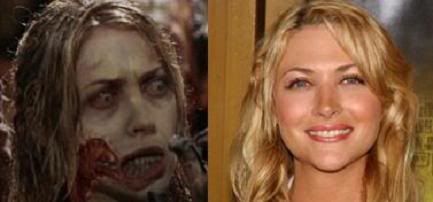 8. Ana from Dawn of the Dead 2004
Yeah she's not drop dead stunner but she does put up a good fight (and a whine, but we'll overlook that). Here she is all covered in blood and tucked up in bed. Hard day was it? Jeez cry more.

7. Madeleine Short Parker from White Zombie
I just wanted to get in the original, and very first zombie babe Madge Bellamy. She was a 20s sweet heart and hold the position of first zombie on film, and she's a bit of looker too. I'd have certainly done the Charleston with her in back in the day.

6. Slack from Land of the Dead
We find our female protagonist about to be killed by a zombie for entertainment in a cage fight. She seems to be wearing some sort of fishnet all in one body… thing as well as a tiny skirt and pvc crop top which immediately screams classy lass.

5. Dr Dakota Block from Planet Terror
There's something about a girl with anesthetic syringes strapped to her thigh isn't there?

4. Wichita from Zombieland
I'm not massively convinced about this one but I am assure she is now every geeky teen boy's fantasy. Oh no's Zombies have invaded, I'd best get me some cute teen girl who will love me cos I'm quirky, nerdy and lame and because I'll risk my life to save her when she acts ridiculously dumb and plays on fairground rides with her annoying kid sister. Whatever lads. Honestly I'd have shot her for stealing my truck.

3. Alice from Resident Evil
Ok I know, bit of cop out. Milla Jovovich is always going to look hot, no matter what god awful character she plays and despite her ham acting. I also know she isn't looking quite as cute as when she was all ginger hair and white duck tape but cut the girl some slack;  in this picture she knows how to accessorise.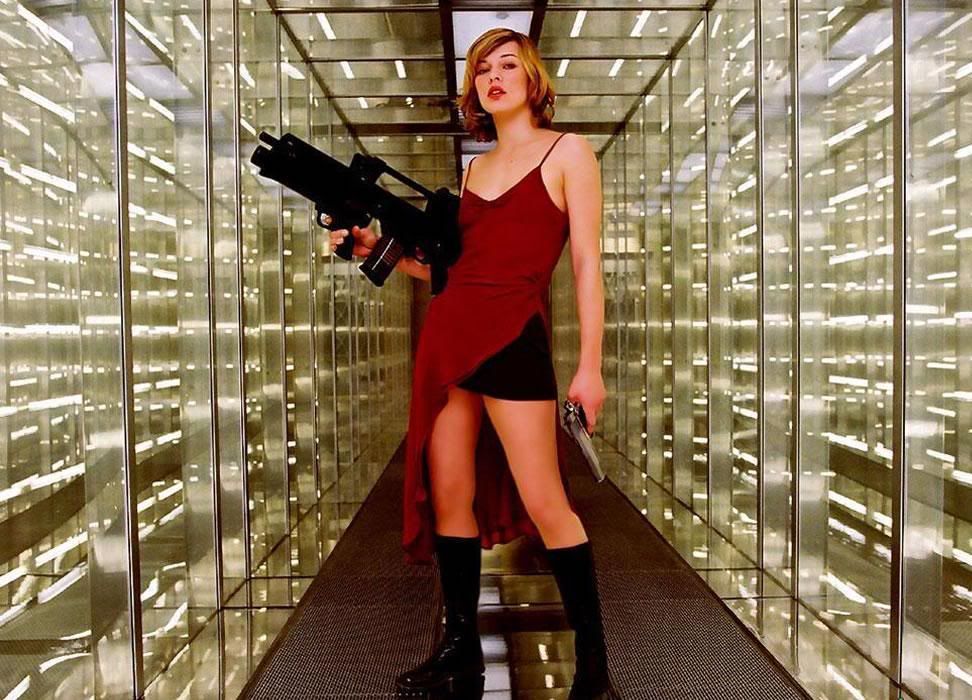 2. All the girls from Zombie Strippers
So the premise of Zombie Strippers is that when a bunch of strippers get turned into zombies, they get better at stripping. So there is no way that this could ever make a bad film but just in case it could have they cast Jenna Jameson as the lead stripper zombie. Now don't get me wrong, Jenna is a great gal and all but it's the whole cast of girls that really make the film. What would it be without hot goth girl Roxy Saint (she did the sound track too btw), cute Nebraskan girl-next-door Jennifer Holland and all the other strippers and feisty army girls (who also seemed to take more clothes off as the film progressed).
If you're looking for zombies writhing around in front of your eyes all naked and such then you should probably watch the whole of this film. Here is the most obscenely silly part of it (fyi by this time the zombie girls have somewhat decayed).

1. Cherry Darling from Planet Terror
Cherry is the ultimate Zombie Warrioress. Out of all the ladies we've seen here she is the one I'd run and hide behind in a zombie invasion (and admire the view while I was back there). In Planet Terror she manages to go from stripper to amputee with gun for a leg and somehow become more attractive along the way. Check it out, I think you'll agree she gets the number 1 spot:
Here she is will both her legs being a stripper…lovely

Here she is after getting her leg ripped off by crazed gas zombies. Still time to put some lippy on; classy.

And finally here she is after having her leg replaced with a machine gun/ rocket launcher… very useful for killing zombies and bad guys with, especially when you have stripper flexibility.

That's it. Sorry I haven't included more zombies in the top 10 but if you want more un-dead girlies head to this site, they really do cover off the zombie locker fodder catagory. Don't worry I won't IP track your clicks on the link, you dirty necros.
2 Responses to "Valentines Special – Part 3 – Top 10 Zombie Babes"