So the lovely Barbarann Garrard, maker of my number 1 all time best zombie cake ever from this post got in contact to let me know that she has made another AWESOME ZOMBIE CAKE. So I was all like 'cooooooooool I'd better post that' so here it is:
We salute you maker of awesome cakes! Let us know if you want to make one for RedOnYou!
Jason Freeny has created this working puzzle sculpture presumably to keep smart zombies entertained. Good plan Jason, if they're amused by this then they're off the streets eating brains. Thanks for making the world a safer place. Here's how he did it.
Check out this trailer for Dead Island, a new FPS survival horror game from Techland and Deep Silver… zomg it looks awsome!
"What's the only thing that kills a vacation faster than screaming children on the airplane? Bloodthirsty zombies" – sweet
As you may or may not know I spend a lot of my time making video games. And I have just finished off my latest game called BioTerror.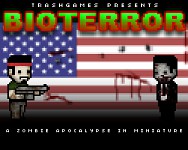 BioTerror is the first part of a trilogy that takes brainwashed super soldier Hank Damage on a mission to rescue the President's daughter from Zombies. Hank is forced by his former commander to go deep into the junge and rescue the girl against seemingly insurmountable odds.
But this is only the beginning for Hank, as when he returns to the good old USA things become complicated.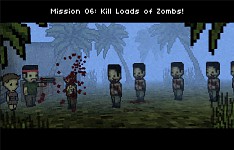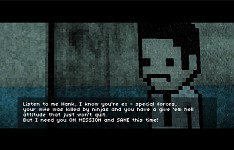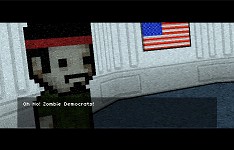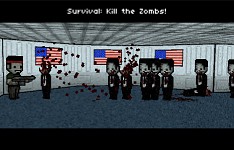 You can read all about it
here
.
And play it here for FREE!
Enjoy!
"Five bored strippers, working in a quiet customer-less club, stumble across a secret passageway in their dressing room, that leads to the basement and the discovery of The Well of the Dead and The Book of the Dead. They read the incantations from the book out loud and unknowingly, unleash the army of the Undead on the world! Armed with swords and chainsaws and their kick-ass fighting moves, only they can stop the zombie army now! "
For one night only this film is playing at the Prince Charles Cinema in Leicester Square. So come zom, come all on 17th (this Friday) at 8.45pm and enjoy what promises to be a feast for the eyes. Review to follow shortly.